Residential Life
Announcing the Reduce the Juice Waste challenge results
The results from the Reduce the Juice: Sustain waste challenge are in and we are happy to announce that Nutford House is victorious… congratulations!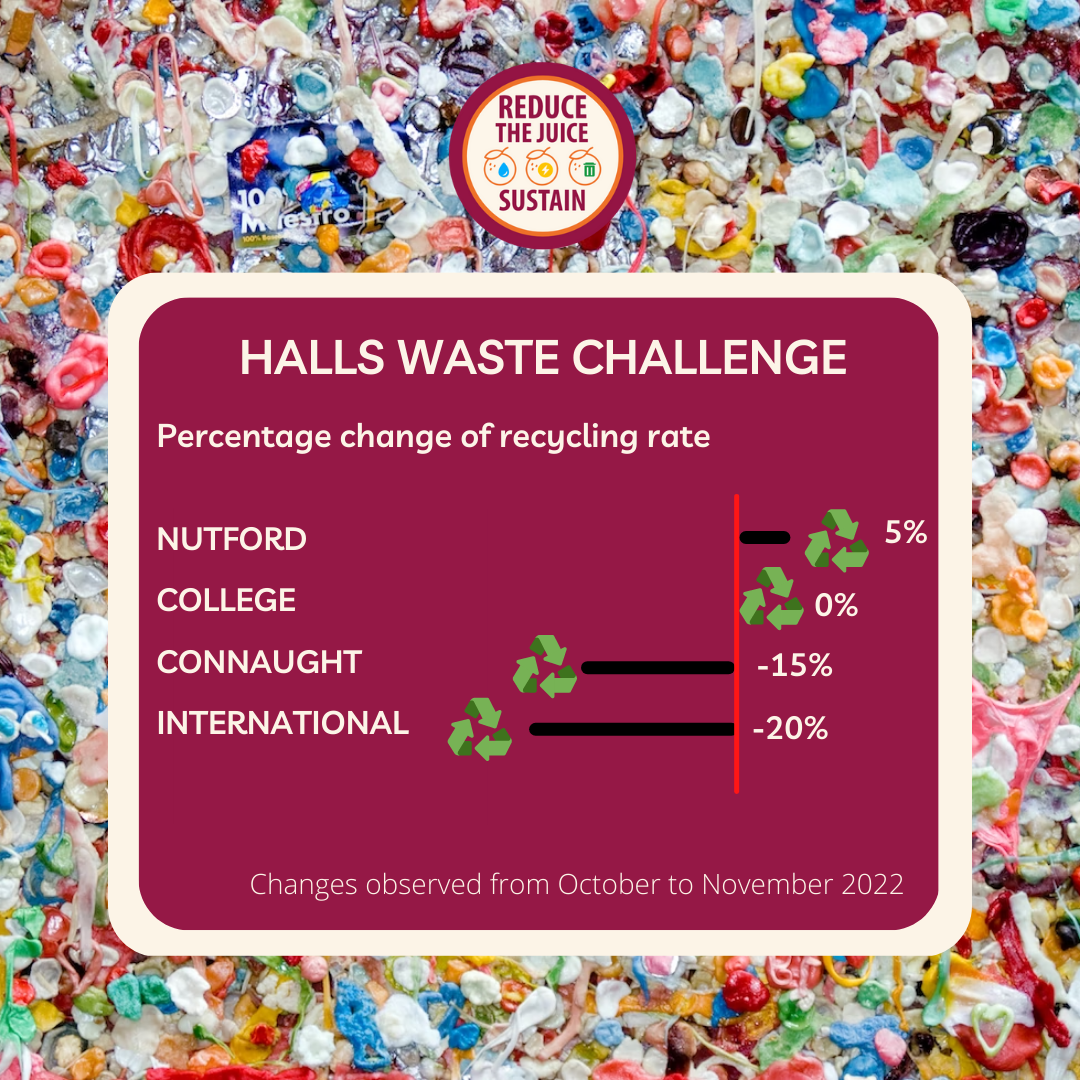 The challenge ran during November and we monitored which hall made the largest improvement in terms of their recycling rate. Nutford House won with an improvement of 5%. Residents of Nutford House will receive an email with an MS Form where they can vote how they want the £250 prize money to be spent.
For the purposes of transparency, here is the raw data for the recycling rates for each hall in October and November:

Recycling Rate (%)
Hall
October
November
College
49
49
Connaught
74
63
International
63
50
Nutford
74
78

As you can see there was a decrease in the recycling rate in Connaught and International Hall. Furthermore, College has the lowest recycling rate and it is below 50%. We want to know if there is anything we can do to help. Email sustainability@london.ac.uk if you are experiencing barriers to recycling effectively or if you require further guidance.
Positively, from September, when most of you moved in, to November, your efforts to separate your waste and recycling has:
Saved 296 trees
Saved 71,529kg of CO2
Recycled 69,193kg of materials
Powered 129 homes for a month via energy from waste
Donated 139 meals to FareShare for people in need
These figures are great but the overall recycling rate from all the halls combined, from September to November, has been 59%. Our target is to achieve an overall recycling rate of 80% and we need your help to achieve this. We understand recycling can be tricky. Please check our waste and recycling guide to check you are separating materials correctly in your hall- https://campuslife.london.ac.uk/your-guide-to-waste-and-recycling-in-your-hall_173210.
Residents of College Hall, Connaught Hall and International Hall do not worry, Reduce the Juice will be returning with another competition and a chance to win £250. This competition will run during February where we will monitor which halls decrease the amount of energy they use. Look out for a member of the Reduce the Juice team in your halls towards the end of January.
Topics