Residential Life
Hedgehog Friendly Campus Bronze Award!
We are proud to announce that we have been reaccredited with the bronze Hedgehog Friendly award.
Last year a group of 9 UoL staff members and students from our Intercollegiate Halls came together with the goal of making the University of London estate a safer place for hedgehogs and all wildlife.
To be reaccredited with the bronze award we had to complete 10 out of 24 actions from the Hedgehog Friendly Campus workbook.
So what did we do?
We established our working group of 9 members and held our first meeting. We discussed the current situation, the situation being that hedgehogs are classed as vulnerable to extinction in the British Red List for Mammals, and we came up with our plan of action to receive the bronze award.
We walked around the estate to complete a hedgehog hazards audit. Unfortunately, we found few hazards. A number of which were unavoidable, like the traffic and roads around the estate. And a number of which were solvable- like the pumpkin remains we found in Gordon Square which Nurture, our grounds contractors, swiftly removed. Pumpkins make hedgehogs and a number of other animals poorly and can spread disease. We also found a lot of litter and, in response, we are hoping to plan a Litter Pick this year for staff and students to get involved in.
We organised for physical information to be available around the Halls of Residence to inform students about the impacts of littering on hedgehogs. The posters display a very sad image of a hedgehog trapped in the plastic rings typically used to package cans of alcohol. Which reminds me, a quick PSA, please make sure you cut these plastic rings before you put them in the bin, they can very easily make their way from your bin and into the environment to wreak havoc.
We placed a fundraising pot for the British Hedgehog Preservation Society in the Senate House reception. If you ever happen to have a bit of loose change that you can spare, please do drop it in the pot.
Nurture installed a bug hotel in Woburn Square and a hedgehog house in Gordon Square. We hope to get some visitors over the course of the year and beyond!
Nurture attached stickers to their equipment to remind them to check areas before strimming and mowing grass. Hedgehogs are very sleepy, being nocturnal and hibernating mammals, so you never know where they might be resting. If you have a garden, please do check before you strim/mow.
One of the wonderful students from the working group wrote an article for Campus Life about hedgehogs and why they need our help. You can read it here- https://campuslife.london.ac.uk/so-whats-the-deal-with-hedgehogs_176678
One of the wonderful UoL staff members from the working group wrote an article for the Staff Intranet about hedgehogs and litter. You can read it here on Campus Life- https://campuslife.london.ac.uk/be-litter-aware-for-the-hedgehogs-and-other-wildlife_176732 
Two of our brilliant (time for a new adjective) students from the working group create a hedgehog themed Instagram account where they regularly share information about hedgehogs. Why not show your support and give it a follow @uolhedgehogs.
Lastly, using the physical posters, the article on the Intranet (which was also shared to Campus Life), and the social media account we ran a litter awareness campaign.
Here's our auditor feedback: "A really great Bronze application. Some great outreach and different audiences reached. We loved seeing your litter campaign and how you thought about using different engagement methods within this. This will have increased your audience.
Your hazards audit was thorough, and it was great to see that some mitigation has already been actioned."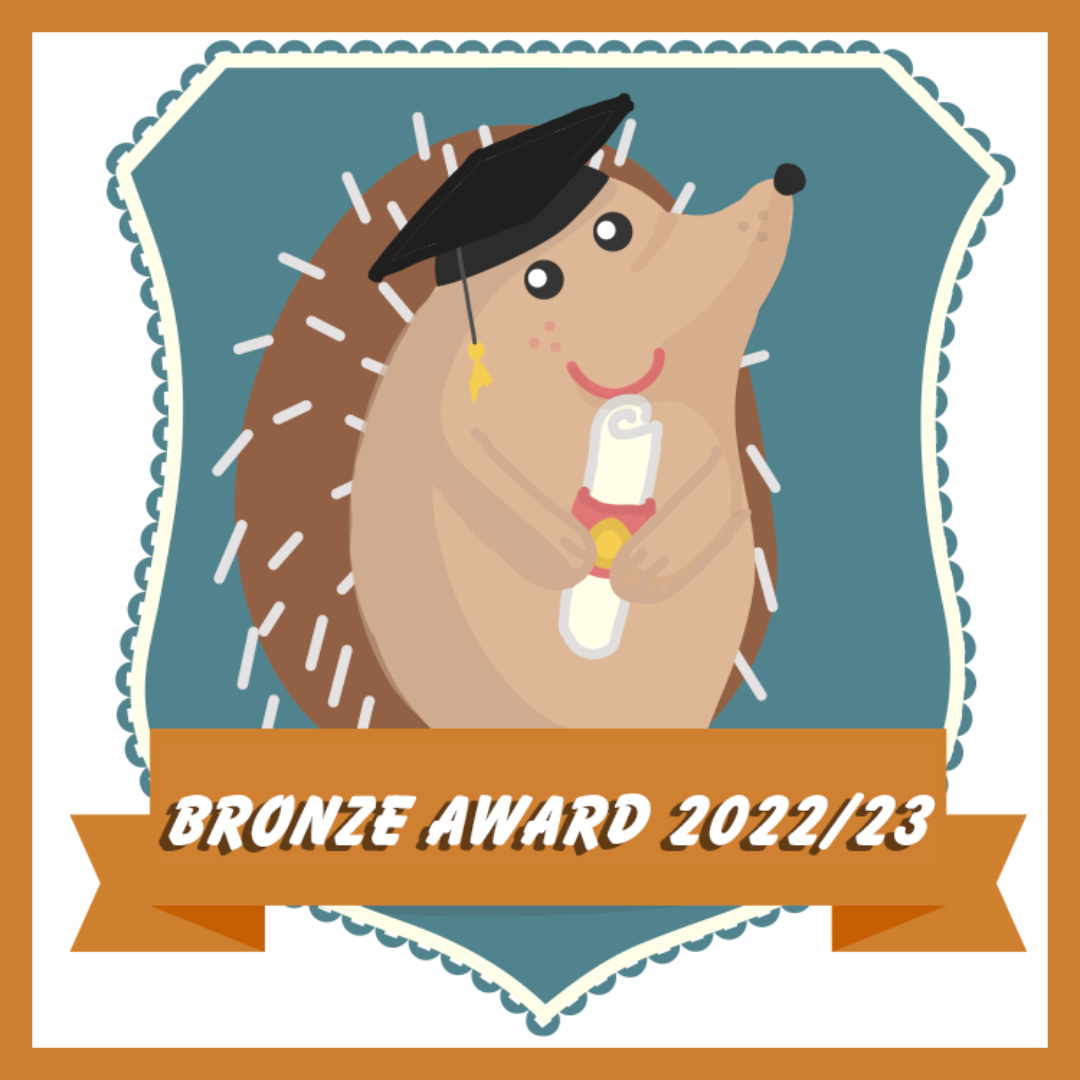 Thank you and congratulations to all those who were involved in helping us with this achievement.
The bronze award accreditation lasts for one year so we will be completing lots more actions this year and we will hopefully push for silver!
If you would like to be a part of this year's Hedgehog Friendly Campus working group, please email sustainability@london.ac.uk. Our first meeting is on the 21st of March at 11am.
Topics