Residential Life
Reduce the Juice: Connect
Take action on climate change, and become a certified Sustainability Advocate,
Reduce the Juice: Connect is the online sustainability engagement programme developed by the University of London. Our goal is to give students and staff the knowledge and skills to become advocates for environmental sustainability, so that we can work together to create a sustainable global future.
Each month during the academic year, Reduce the Juice: Connect will broadcast a live webinar that focuses on a different sustainability theme. We'll introducing you to important sustainability issues such as the importance of sustainable cities, the interconnections between the climate crisis and the biodiversity crisis and coping with climate anxiety in a time of increasing climate instability. We'll focus on what we can do in everyday life and within our communities, to reduce our impact on the planet and be part of positive change.
Here are the exciting sustainability topics that we will be covering this year: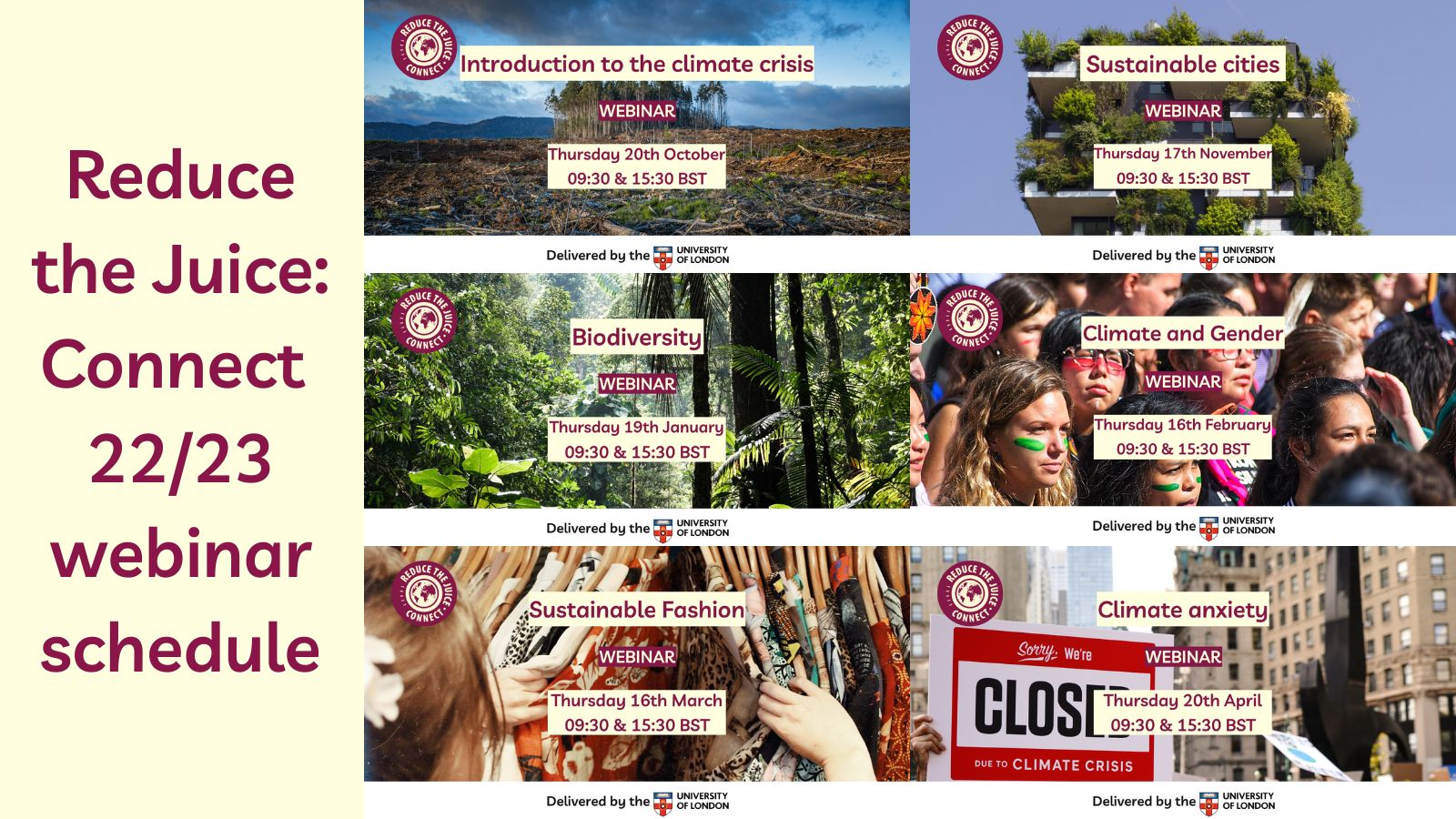 Sign up for these webinars on our Eventbrite page.
Each webinar, you'll be invited to take part in a sustainability competition to show how you've put your knowledge into practice and each month we'll choose a winner to receive an exciting sustainable prize! The competition and the prize will be announced in the webinar.
Each webinar, we will also introduce you to our #RtJtakeaction challenge where we ask you to show us what you're doing to live sustainably in relation to the sustainability topic by tagging us on social media or emailing us.
If you take part in at least three competitions and three #RtJtakeaction challenges, you'll receive a Sustainability Advocate Award from the University of London at the end of the year! The Sustainability Advocate Award is tiered, meaning that the more involved you are the higher the level of award you'll receive, ranging from bronze to platinum.
We have a worldwide audience, and our goal is to reach as many students as possible. You will be joined by students from the University of London Worldwide, the University of London Institute in Paris and other students who live in our Intercollegiate Halls. As well as learning about the topic during the webinar, there is also the opportunity to discuss the topic with attendees from our worldwide audience and hear global perspectives and experiences of climate change and sustainability.
If you're interested in learning more about the climate crisis and sustainability and want to know what you can do as an individual to drive positive change, then this programme is for you. To get involved in Reduce the Juice: Connect, sign up to our newsletter to receive exciting updates about the programme. You can also follow us on social media for exciting sustainability content, check out our Twitter, Facebook and Instagram. Remember to spread the word!
Keep an eye out for our Reduce the Juice: Sustain programme where we focus on helping you, the residents of our Intercollegiate Halls, make sustainable behaviour changes in your halls and learn top sustainability tips, which will help you keep your bills low when you leave university halls.
Topics