Life In London
Welcome to... Bloomsbury
Welcome to your new home!
We have put together a list of some of the best things about the area.
Universities.
Bloomsbury is historically famous for its educational establishments. It is home to Senate House and the main library of the University of London, UCL, Birkbeck College, Institute of Education, London School of Hygiene and Tropical Medicine, School of Pharmacy, School of Oriental and African Studies (SOAS), and the London campuses of several American colleges including the University of California, University of Delaware, Florida State University, Syracuse University and New York University.
Notable figures.
The Bloomsbury area is well known for its literary inhabitants, among them T.S. Eliot and Virginia Woolf. Look around for London's famous blue plaques on buildings - they honour the notable men and women who have lived or worked in them. For example, walking past UCL you can see that Charles Darwin used to live there and the building next to Gordon Square was once home of John Maynard Keynes.

Parks.
Bloomsbury has a bunch of lovely green spaces to offer - just step outside of IH and you will find yourself in front of Brunswick Square. Exploring the area you will find also Russel Sq, Tavistock Sq, Gordon Sq, Queen Sq, and Bloomsbury Square has a small circular garden surrounded by Georgian buildings.
Books.
Walking down on Marchmont Street, you will find an interesting trio of independent outlets. Nearby UCL are also Waterstones and Treadwell's Books. A 13-minute walk from IH is the British Library - the largest library in the world by the number of items catalogued with a well over 170 million items from many countries. It is also a home to the Sir John Ritblat Gallery: Treasures of the British Library, where some of the most significant world treasures can be seen for free, including Magna Carta, Shakespeare's First Folio, Lewis Carroll's manuscripts of Alice's Adventures Under Ground, Beatles lyrics handwritten by John Lennon, and drawings on pages from Leonardo's Da Vinci's Notebook.
Museums & galleries. 
Just a short walk from IH is the British Museum. Its remarkable collection spans over two million years of human history. World-famous objects such as the Rosetta Stone, Parthenon sculptures, and Egyptian mummies are only a small part of the vast permanent collection. Also in Bloomsbury is the Foundling Museum, which tells the story of the Foundling Hospital opened for unwanted children in Georgian London, the Charles Dickens Museum, the Petrie Museum of Egyptian Archaeology, the Grant Museum of Zoology and the Cartoon Museum. Some of the art galleries in the area are the Austin Desmond Fine Art Gallery, Brunei Gallery, Langham Gallery, and October Gallery.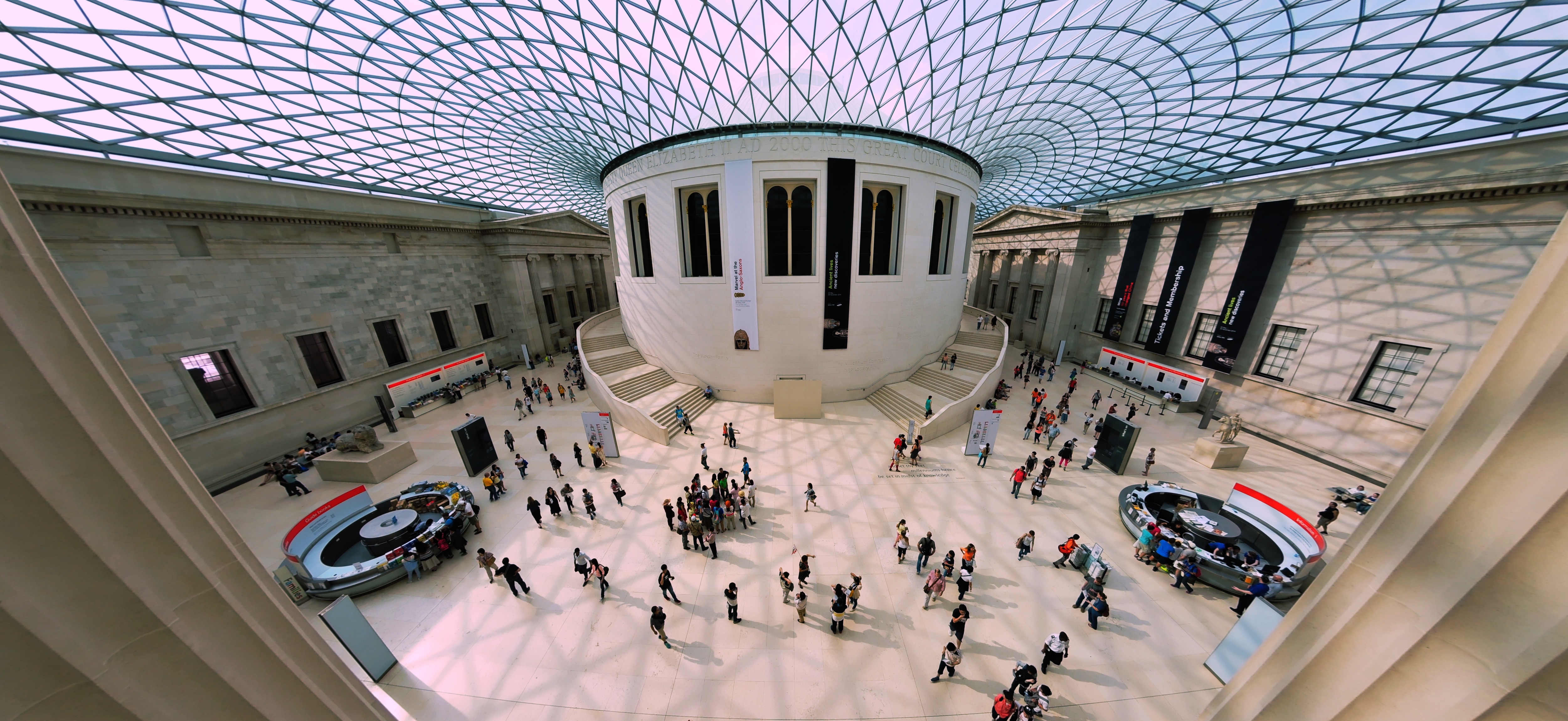 ©Unsplash photo
Theatres.
Bloomsbury Theatre, owned by University College London, stages both student and professional productions. Dominion Theatre is a large London theatre that tends to show mainstream blockbuster-type musical productions. Cinemas nearby are Curzon in the Brunswick Centre, Odeon on Tottenham Court Rd, and Birkbeck cinema on Gordon Sq.
Pubs & food. 
In the area, there are plenty of pubs, such as The Marquis Cornwallis and Lord John Russel, as well restaurants offering a great diversity - Mediterranean, Middle Eastern, Asian, European with a number of vegetarian, vegan and gluten-free options.
Bloomsbury Festival. 
It usually happens at the end of October and brings five days of artistic, scientific and literary events, immersive exhibitions and performances in unusual locations. The free festival is a celebration of the local area, partnering with galleries, libraries and museums.
Harry Potter! 
King's Cross is where students of Hogwarts School of Witchcraft and Wizardry catch the Hogwarts Express. Platforms 9 and 10 are separated by tracks, but you can find a platform 9¾ on the wall in the station concourse. Look out for a luggage trolley embedded in the wall, and you can pretend you are off to start your magical school journey! In the Harry Potter shop, you can find wands, time turners, and Horcruxes.

Now, all you need to do is go and explore. Enjoy! 
Topics