Health and Wellbeing
Meal deals at Bloom - £5 lunch, £2.10 dhal +naan!
Deller Hall Café
Deller Hall Café offers quick and delicious meals that combine quality and variety with the convenience of being in Senate House. You can find it in Bloom - the place for all your study needs!
Come enjoy one of our "Street Food on Tour" options, which feature a taste of world cuisines. A wide range of hot and cold beverages are also available, including Fairground premium coffee, speciality teas, waters, juices, and sodas. For a sweet treat, grab a slice of cake, a muffin, or your favourite chocolate bar. Savoury snacks include crisps and pop chips. Packaged sandwiches, wraps, and toasties are perfect for meals on the run. Missed breakfast at home? Pop in for fruit, pastries, yoghurt, muesli, or a classic sausage or bacon bap.
Hours
Monday-Friday, 8:30 am - 6:00 pm
Hot food service: 11:30 am – 3:00 pm

Low-cost hot food options at Deller Hall Café
The Café has several high-value, low-cost options available for those on a budget:
£5 meal deal which includes a main meal and two sides;
Peel & Loaf sandwiches can be paired with a salad for just £3.95;
Salad from Farmacy, Plant Market, or Hero for £3.50
A delicious bowl of dhal served with a warm naan for £2.10.
Introducing Fairground coffee
Fairground prides itself on being a socially responsible company: its premium coffee is 100% organic and sourced ethically and responsibly from worker-friendly cooperatives in Peru and Honduras. The company also recycles coffee waste into biofuels and uses 100% recyclable or compostable paper cups. In addition, Fairground has partnered with GROUNDS UP, a collective of UK charity partners and community projects supported by Extract Coffee Roasters. These are grass-roots projects dedicated to making a difference: they have assisted ex-rough sleepers in London, hospitality professionals in the North, vulnerable groups in the Cotswolds, and young people from ` communities across the South West.
Special offer: buy a Deller Hall Café keep-cup and your first 8 oz Fairground coffee is on us. Visit the café for details.
The café also offers a coffee loyalty scheme – buy 9 cups of coffee and the 10th cup is free.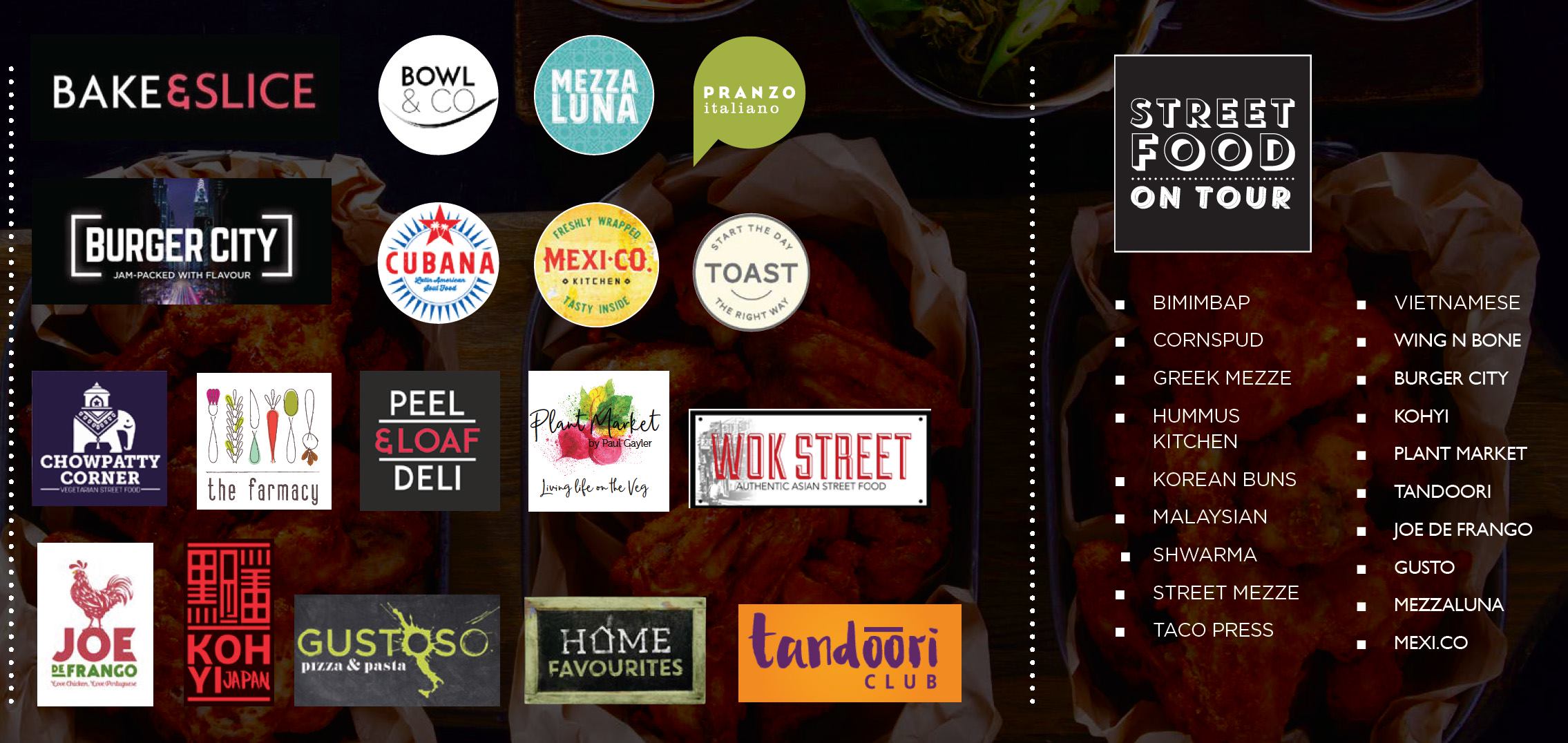 Peel & Loaf: Fresh deli sandwiches served hot or cold
Gustoso Pasta: Classic pasta dishes
Wok Street: Chinese and Southeast Asian dishes including Malaysian curries, Thai noodle dishes, and Szechuan stir-fries
Cubana: Classic Cuban dishes with bold flavours
Plant Market: Plant-based options that use seasonal ingredients sourced locally
Joe De Frango: Peri-peri chicken dishes
Burger City: Gourmet burgers for meat lovers and vegetarians
Mexi.co: Mexican dishes including meat and vegetarian burritos
Koh Yi: Japanese favourites such as grilled teriyaki chicken and beetroot korokke
​​​​​​​Tandoori Club: Traditional Indian dishes paired with homemade chutneys and sides
Farmacy: Build-your-own salad​​​​​​​
Menu
In addition to the mains and sides listed below, there is a daily "chef's choice" main, Peel & Loaf deli sandwiches, and a vegan dhal with chapati, chilli flakes, and oils.
Monday: Burger City
Southern chicken burger, cool mayo, brioche bun
Spiced bean burger, tomato and green chilli relish, brioche bun
Sides (coleslaw, beans, corns)
Spiced wedges
Tuesday: ​​​​​​​Hummus Kitchen
Spiced beef or falafel wrap
Slaws, preserved lemon, salt baked beets
Chimichurri
Tabbouleh
Wednesday: ​​​​​​​Midweek Roast
Roasted chicken or smoked seitan
Full roast trimmings
Thursday: ​​​​​​​Curry Club
Lamb or roasted vegetable dhansak
Naan
Special rice
Sambals
Pappadums
Friday: ​​​​​​​Fish and Chip Shop
Battered catch of the day or battered halloumi
Mushy peas
Tartare sauce
Grilled lemons
Chunky chips
Pickles
Salad selection (not all salads will be available every day)
| Farmacy | Plant Market | Hero |
| --- | --- | --- |
| Quinoa, roasted root succotash | Italian super-grains | Butternut, puy lentil, feta |
| Cantaloupe, cucumber, mozzarella panzanella | Japanese green onion slaw | Celeriac, black bean, cranberry |
| Harissa, chickpea, bulgar, wild rice | Mezzaluna quinoa | Sweet potato, baby spinach, grape |
| Kale, heritage tomato, and apple Caesar | Mojo grilled vegetable salad | Charred antipasti |
| Beetroot, barley, feta, herbs | Korean rice salad | Chunky avocado salsa |
ENJOY!
Topics